How banks are using machine learning

By Josh Painter
Among the ways financial institutions are revolutionizing the way business is done, machine learning has stepped out as a leading technology for banks looking to transform both front and back-office operations.
Machine learning is an application of artificial intelligence (AI) that provides systems the ability to automatically learn and improve from experiences. It focuses on developing programs to access data and use it to learn for themselves.
For example, JPMorgan Chase, an American multinational investment bank, developed a machine learning program to analyze and extract information from credit documentation. Applying this tool enabled the bank to process over 10,000 credit agreements in seconds, instead of the previous 350,000+ manual hours it was taking.
Let's take a look at some of the ways banks are using machine learning:
Conversational banking
Customer service is arguably the most important aspect of banking, having the biggest impact on both current and prospective customers. Understandably, this is where financial institutions are experimenting the most with machine learning to enhance communication with customers and improve the overall relationship between bank and customer.
Machine learning in the form of chatbots for conversational banking is the most commonly used form of the technology among banks. Virtual assistants can use predictive analysis to determine where to direct customers, complete simple account updates, and even promote new services and products.
Customers have the opportunity to interact with these chatbots at more flexible times and through easier methods like apps and texting. Virtual assistants reduce the need for customers to call or visit a branch in-person, saving time for both, and allowing banks to offer 24/7 customer service.
A leader in this space is Bank of America with their virtual assistant app, Erica. Erica became the first widely-available virtual assistant back in 2018, helping customers with standard banking needs like transferring money, setting bill reminders, and pulling account details. As of December 2019, Erica had more than 10,000,000 users!
Fraud detection and protection
In an area that affects almost every financial institution, machine learning can have a major impact on fraud detection and protection. By analyzing customers' location, typical client behavior, and spending patterns, machine learning can detect abnormalities and alerts the customer, helping reduce account and credit card fraud.
A task that's pretty much impossible for a human to complete, as we can't analyze hundreds of transactions in seconds, machine learning can precisely analyze and alert in real-time with little to no errors.
Machine learning systems can also flag suspicious account activity, either requiring intervention by the customer or the bank or blocking the transaction. This enables banks to be proactive in catching fraud in real-time, rather than waiting for an incident to occur and fixing it retroactively.
Credit decisions
Up until recently, credit decisions have been made by humans analyzing credit scores, history, and other financial behaviors. As this human-led process isn't always exact or consistent, banks tend to lose money because of missing or incorrect data due to human error.
Machine learning is here to help! Financial institutions can use it to easily and quickly analyze data from a customer looking to get a new credit card, borrow money, apply for a loan or mortgage, etc. and evaluate the information against similar buyer behaviors and industry patterns to determine the risk and/or benefit of providing credit or a loan to the customer.
By using machine learning to analyze, process, and apply credit decisions, banks get a more well-rounded picture of risk and potential return on investment for their customers, enabling them to make safer and smarter decisions for their business.
Process automation
Robotic process automation (RPA) is a form of process automation technology that uses digital workers, aka software robots, to automate tasks usually performed by humans within a business process. RPA can be used to automate back-office processes like account maintenance, reconciliation, and closing, credit card and mortgage processing, trial balancing, and more.
RPA processes can use machine learning algorithms to apply more sophisticated business logic to tasks within a business process, in the same way an employee would. This may make it easier to use the two together since the business can apply machine learning in a more controlled process through RPA and see the results on each task within the process.
For example, when processing banking transactions for fraud scoring, an RPA process can review customer information associated with a transaction in real-time and use machine learning to analyze the data and provide fraud scoring. If the fraud score is concerning, it can alert employees to quickly conduct sensitive transaction reviews.
By integrating machine learning into banking operations, financial institutions can reduce the need for manual data entry and process intervention, free employees workload from repetitive tasks to focus on customer-focussed work, and improve customer experiences and relationships.
About the author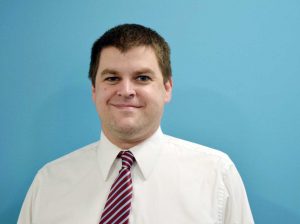 Josh is a Blue Prism Consultant and our Lead Blue Prism Developer. In his role, he's involved in all day to day activities for Blue Prism. Throughout his career, he's always been involved with reviewing business processes and notes how fulfilling it is to be able to help automate these business processes to make work easier. Growing up in Colorado, Josh enjoys spending his free time in the mountains and traveling to new locations with his family.