Home Health Manager Application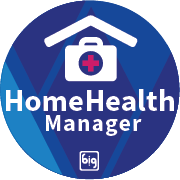 Today's home health organizations are constantly challenged with effectively managing their daily operations while providing high-quality care. From scheduling complexities to limited visibility into appointment status, routing, and nurse safety, home health organizations need an easy-to-use system that provides operational oversight and control while keeping the focus on high-quality patient experiences. Bits In Glass' Home Health Manager (HHM) application provides real-time schedule management and home health visit management capabilities.
Home Health Manager is easily configurable and can be expanded to accommodate patient and care team scheduling, along with any home health services provided to your patients. It provides the transparency necessary for supporting

high-quality care for home health patients.
Support for nurse appointment scheduling with suggested times based on availability, appointment type, and certification level
Integrates with Google Maps to create nurse appointment route details
Provides supervisors with a dashboard to manage all nurse appointments
Manages notifications for emergencies and safety alerts
Captures clinical and social observations with photo upload capabilities
Records and displays current and historical patient vitals
Check out the 2 page overview on Home Health Manager here.
Watch the Home Health Manager webinar on demand here.