Bits In Glass named Appian Regional Partner of the Year:
Mid-Market
Edmonton, AB – April 17, 2017 – Monday, April 3, at the Appian World Digital Transformation Conference in San Francisco, CA, Bits In Glass was awarded 2017 Appian Regional Partner of the Year – Mid-Market.
This honour distinguishes Bits In Glass as the North American Mid-Market Partner of the year for 2017.  The company was recognized for achievements that include a combination of selling reseller deals, expanding sales funnel, delivering on strategic projects, and supporting Appian in both project delivery and sales that resulted in highly satisfied customers.
"We are grateful to receive this recognition from Appian as an important partner in the Appian ecosystem, says David Hauser, Bits in Glass Partner and Appian Practice Lead. "Our Appian practitioners are very focussed on the rapid delivery of solutions for our clients based on the Appian platform.  We look forward to our continued growth while ensuring each new client achieves the tremendous benefits of the Appian platform."
"At Appian, our partners play an important role in helping organizations across the world manage their digital transformation initiatives through the Appian Platform," said Marc Wilson, senior vice president, industry markets. "Each year we recognize our top partners for their exemplary work and the commitment they've demonstrated to deliver the best possible outcome for customers. Bits In Glass continues to serve as a valued partner within our ecosystem, and we congratulate them on their immense success."
Bits in Glass and Appian continue to move forward together in the delivery of services that assure the best outcomes for businesses in an ever-expanding market.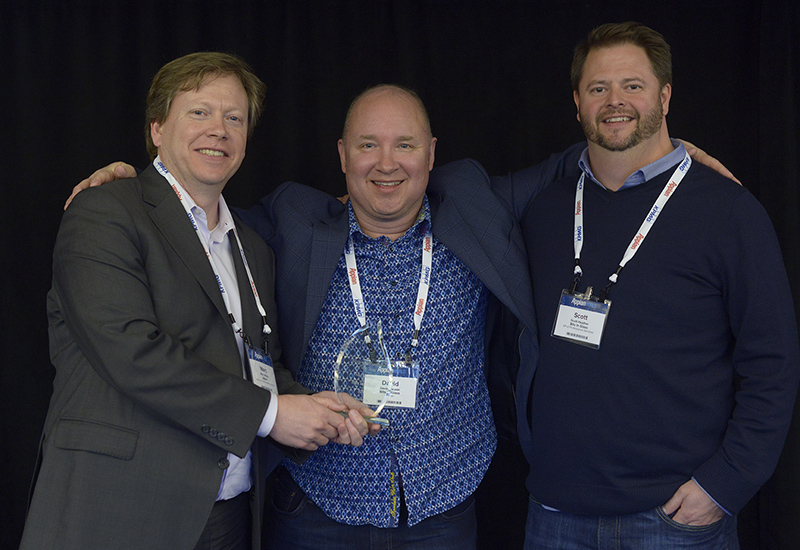 From left to right: Marc Wilson – Appian Co-Founder and Senior Vice President Global Partners and Industry Practices, David Hauser – Bits In Glass Partner and Appian Practice Lead, Scott Heather – Bits In Glass Vice President Professional Services US
For more information please contact David Hauser, Partner, Bits In Glass and Appian Practice Lead – 1-888-336-4484 Ext: 8008 or email: david.hauser@bitsinglass.com