Bits In Glass partners with Tableau, driving business intelligence and data analytics capabilities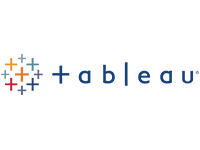 Denver, CO – May 19, 2021 –Bits In Glass, a software consulting firm helping companies digitally transform their operations, is proud to announce a new partnership with Tableau, the world's leading analytics platform to transform the way we use data to solve problems — empowering people and organizations to make the most of their data.
Bits In Glass will now offer Tableau as part of its line-up of industry-leading technology platforms helping businesses modernize operations to improve customer experiences, increase revenue, and outpace the competition, all while
saving time and money.
As a market-leading choice for modern business intelligence, Tableau's analytics platform helps people see and understand their data to facilitate informed-decision making. The Tableau platform is known for taking various types of data from almost any system and turning it into actionable insights with speed and ease.
As the era of Big Data kicks into high-gear, data analytics is an increasingly important tool to make sense of the endless data generated by businesses every day. Analytics with Tableau helps tell stories by curating data into a form that's easier to understand, highlighting trends, outliers, and opportunities. When every employee has the data they need to do their job better, the entire organization reaps the rewards: agility, customer satisfaction, and innovation.
"In the age of disruption from COVID-19, companies are looking for ways to better capture, understand, and leverage their business and customer data," says David Hauser, Founding Partner and Automation Practice Lead for Bits In Glass. "Partnering with Tableau to provide industry-leading business intelligence capabilities will enable better customer experiences, increased revenue, a competitive advantage, and so much more."
Tableau provides customers with the ability to connect to virtually any data source and work with all types of data, including on-premise, in cloud applications, or flat files. Hybrid connectivity supports both live analysis and bringing data in-memory via encrypted extracts.
"Tableau is committed to empowering everyone to make smarter decisions faster, utilizing a data-driven approach," says Stan de Boisset, VP Partner Sales Americas for Tableau. "We're thrilled to partner with Bits In Glass to help companies create and thrive in a data culture."