How BIG scaled up!
By Pamela Hampel, Bits In Glass
I joined the Bits In Glass (BIG) family in August 2016. At the time we were quite small and had an aggressive growth plan. I was excited to help BIG scale up over the next three years and was certainly up for the challenge. My first order of business was to evaluate the current programs and tools that were in place. 
Staff onboarding
I knew it was critical to set new hires up for success with a solid onboarding foundation. There's no point tirelessly recruiting if the onboarding experience is poor. Instead of doing a traditional orientation, I built a 90-day program with hands-on presentations and frequent touchpoints (1-on-1's) with managers. We implemented a tool called 7geese which helped facilitate and document these 1-on-1's. The cadence aligned with our company's monthly 1-on-1 and quarterly look back cycle as well. 7geese also includes a built-in recognition feature that integrates with Slack, our internal staff messaging system, and was immediately adopted and embraced by the team. 
When deciding what tools to implement, we considered our current staff size as well as our forecasted headcount. I didn't want to waste time implementing something we'd outgrow in a year. We could always turn on new features as we grew. My intention was to find tools that leveraged technology, aligned with our core values, and would allow us to grow and scale. 
HRIS system
The next phase was to implement a full-service human resources information system (HRIS). We wanted a tool that had a seamless applicant tracking system (ATS) and onboarding component. It's always tricky to replace legacy software so I knew the ATS had to be a rockstar that could reduce the amount of technology we had to implement and learn. We landed on Bamboo HR, which allowed for some cost savings, an easy to use back-end for us, and a great experience for new hires moving from a candidate to a BIGGIE (BIG employee). The time-off request and approval feature made our lives so much easier as we continued to hire more and more amazing talent.
Our amazing HR Coordinator created customized workflows for onboarding new hires.  Stakeholders (managers, finance, and operations teams) are fed information and are assigned tasks when their BIGGIE is hired to ensure a smooth first day. A cute introductory email is also sent to a new hire's immediate team to introduce them before they start.
Slack
As I mentioned above, Slack is our internal messaging system, and is a great collaboration software; a single place for sharing messages, tools, and files. The HR team leverages Slack by owning a few HR specific chat channels. Our BIG Life channel captures all the fun social and cultural related activities and photos, as well as announces anniversaries, birthdays, and social club events. BIG News features more focused HR communications like welcoming new hires, announcing policy changes and reviews, winners of our recognition badges, etc.
BIG growth
We've come so far over the past three years. The technology we've implemented has made our lives so much easier and has contributed to a great experience for our entire team. Now that we have a solid foundation in place we plan to optimize our processes and tools. We're looking forward to continuing to grow and offer engaging HR programs to our BIGGIEs!
—————————–
About the author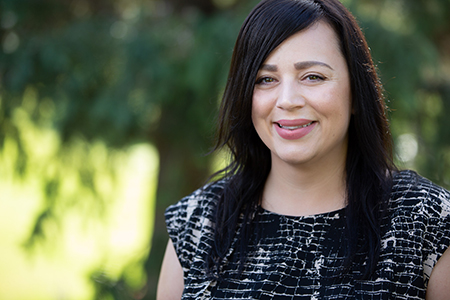 With more than 10 years of Human Resources experience working in interactive marketing and the oil and gas sector, Pamela has significant expertise in employee relations, strategic planning and consulting. Her diversified experience acquiring high-performing talent, HR programs, training and development, employee relations, succession planning, and compensation management, have helped the company scale while maintaining our strong team culture. Now she leads a team of HR professionals that share her passion for technology and culture.