Physical Asset Manager Application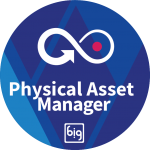 Watch the Physical Asset Manager demo webinar on demand here.
As organizations grow their business, they're constantly challenged with finding new ways to streamline and improve internal processes. Tracking and managing physical assets is no exception and is becoming more and more important as organizations focus on supporting both their offices and staff while controlling costs. Bits In Glass' Physical Asset Manager (PAM) application is an easy-to-use solution that provides organizations of all sizes with the ability to manage the full lifecycle of their physical assets.
Our Physical Asset Manager (PAM) application allows operations staff to easily establish a full inventory of your company's assets,
providing the necessary linkages and visibility into the health and assignments of all assets.
Create, maintain, and align asset records
Attach photos, invoices, receipts, and warranty information to individual assets
Add, remove, and edit office locations, rooms, and employees
Categorize and summarize assets by age
Can be customized to meet any organization's needs
Can be exported to Excel for further reporting needs
Check out the 2 page overview on Physical Asset Manager here.