DocuSign Utility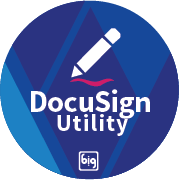 Bits In Glass' DocuSign utility is a re-usable integration that speeds development time by giving Appian designers plug and play functionality, allowing them to quickly and easily integrate DocuSign into applications. Providing a full range of functionality, developers can rely on the DocuSign utility to handle all aspects of the signing process; from signature requests all the way through to follow-up communications.
Our DocuSign utility brings DocuSign's industry-leading functionality into any application built on the Appian platform, including:
Creates signature requests
Alerts users of signature requests and completions
Communicates with Appian to start a new workflow once a signature has been completed
Sends a confirmation email to the signer once they've signed
Ability to share, upload, and print copies of signed documents
Check out the 2 page overview on DocuSign here.
Watch the DocuSign webinar on demand here.