Connected-RPA skill: Knowledge and Insight

By Josh Painter
Blue Prism's connected-RPA (robotic process automation) platform is an intelligent automation solution made up of advanced technologies that enable you to create and customize innovative automations for unique tasks. This is a blog on one of the six intelligent automation skills that are built-in with Blue Prism Cloud's connected-RPA digital workforce — knowledge and insight!
These six skills are human-like attributes that help digital workers complete business tasks the same way a human employee would. They also set Blue Prism apart from other RPA platforms and help you increase productivity, improve customer experiences, and easily deliver true operational agility.
As a quick refresher, RPA is a type of process automation technology that uses digital workers, aka software robots, to automate and execute business tasks. To learn more about RPA technology, check out my blog A beginners guide to Blue Prism RPA.
Knowledge and Insight: what is it?
Knowledge and insight refers to the ability for Blue Prism Cloud's connected-RPA digital workers to scan data sets and knowledge bases to extract data and compile it into customized formats. This skill also enables them to understand and deliver insights from customer behavior and business patterns that are impossible to do manually.
So what does that mean exactly? Well, it means digital workers can identify trends and patterns in text communications like emails, chatbot systems, attachments, etc. to discover and isolate complaints and issues. They can then assign tasks to the right system or employee to take action on what they found.
How does it work?
Blue Prism Cloud easily integrates with all the major AI platforms, meaning its digital workers can easily extract text and process it in a number of ways:
Translation – identify a language and translate it to another
Classification – locate and classify text into categories such as names, places, organizations, or other common categories
Sentiment analysis – identify emotion from a sentence or block of text
Then, based on the analysis, digital workers can automatically create a new case in an existing case management system, send the customer a case ID number, and alert the appropriate systems and employees to take action.
What are the benefits?
When you think about how long it would take an employee to go through text communications, digest it all, process the information, identify the issue, create a case ID, and begin the actionable process, it might be upwards of 15 minutes. Using the built-in knowledge and insight skill, a connected-RPA digital worker can complete this task in roughly one minute.
When it comes to customer service for example, this reduces the amount of manual intervention required and saves employee time, allowing them to focus on responding to customers and helping them through their issues. Plus, it gives you better insight into customer needs and concerns, enabling you to better serve them.
By equipping its connected-RPA digital workforce with intelligent automation skills, Blue Prism Cloud enables digital workers and employees to collaborate on the most optimal results for both customers and the business. Overall, it not only improves communication and relationships with your customers, but it also makes your business more agile, responsive, and efficient.
About the author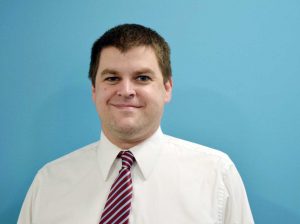 Josh is a Blue Prism Consultant and our Lead Blue Prism Developer. In his role, he's involved in all day to day activities for Blue Prism. Throughout his career, he's always been involved with reviewing business processes and notes how fulfilling it is to be able to help automate these business processes to make work easier. Growing up in Colorado, Josh enjoys spending his free time in the mountains and traveling to new locations with his family. Read more of Josh's blogs here.