Clinical Trial Intake Application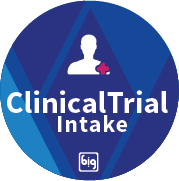 BIG's Clinical Trial Intake (CTI) application is a complete framework that coordinates the various intake, regulatory, legal and feasibility considerations of a clinical trial into a simple tracking system.
Built from the ground up with a modular design, the Clinical Trial Intake System is easily configurable and can be tailored to match any existing intake process with pre-built interactions for regulatory compliance, regulatory and operational checklists, legal negotiation, document management and room to add more.
Key Features and Functionality:
Intake patients quickly with flexible and configurable dynamic case management that empowers you to set up tasks in any way you see fit.
Collaborate and assign cross-departmental tasks using CTI's access portals for departmental specific tasks, including sending notifications to departments such as Legal, Financial and Regulatory.
Easily find and control all of the intake documents using document management capabilities.
Keep track of all user interactions and activity with configurable auditing and reporting.
Highlight and anticipate potential upcoming resource constraints and bottlenecks with visual resource forecasting
Track important deadlines and eliminate the need for external calendars, to-do lists and emails using reminders, task assignments, and notifications for daily routines and unexpected issues with CTI's ad-hoc reminder and task functionality.