Blue Prism series – Interact
Like many businesses, your digital transformation strategy might already be in full swing, but you've discovered that most of your business processes still require some kind of human intervention.
Ultimately, to lead a successful digital transformation initiative, businesses require the right balance between both technology and human interaction. We know that in the future, enterprises will be staffed by a combination of human and intelligent digital workers. According to the World Economic Forum, by 2022 automation and artificial intelligence (AI) are expected to create 133 million new jobs, many of which will require uniquely human abilities and creativity.
So how do you prepare for the future, today?
Start learning about your digital workforce options! It's important to consider the ways automated technology can augment your operations by enhancing productivity, minimizing risks, and protecting privacy.
If you're not familiar, Blue Prism Cloud is a fully integrated, SaaS-based (software as a service) intelligent automation platform that provides enterprises with a pool of AI-enabled digital workers straight from the cloud.
And what sets it apart? Well, as a partner and reseller, we're doing a three-part blog and webinar series on some of the innovative elements of Blue Prism: Hub, Interact, and IADA to show you how you can get more out of your digital transformation strategy. Last week we kicked things off with Hub — the web-based automation lifecycle management tool that helps you plan, implement, and scale your digital workforce.
This week I'll be introducing you to Interact — the intuitive interface for human and digital worker collaboration.
Interact: what is it?
Blue Prism Interact is a collaboration platform for interacting with digital workers in real-time. Its web interface acts as a bridge between human and digital workers, designed to address processes that require manual initiation or intervention.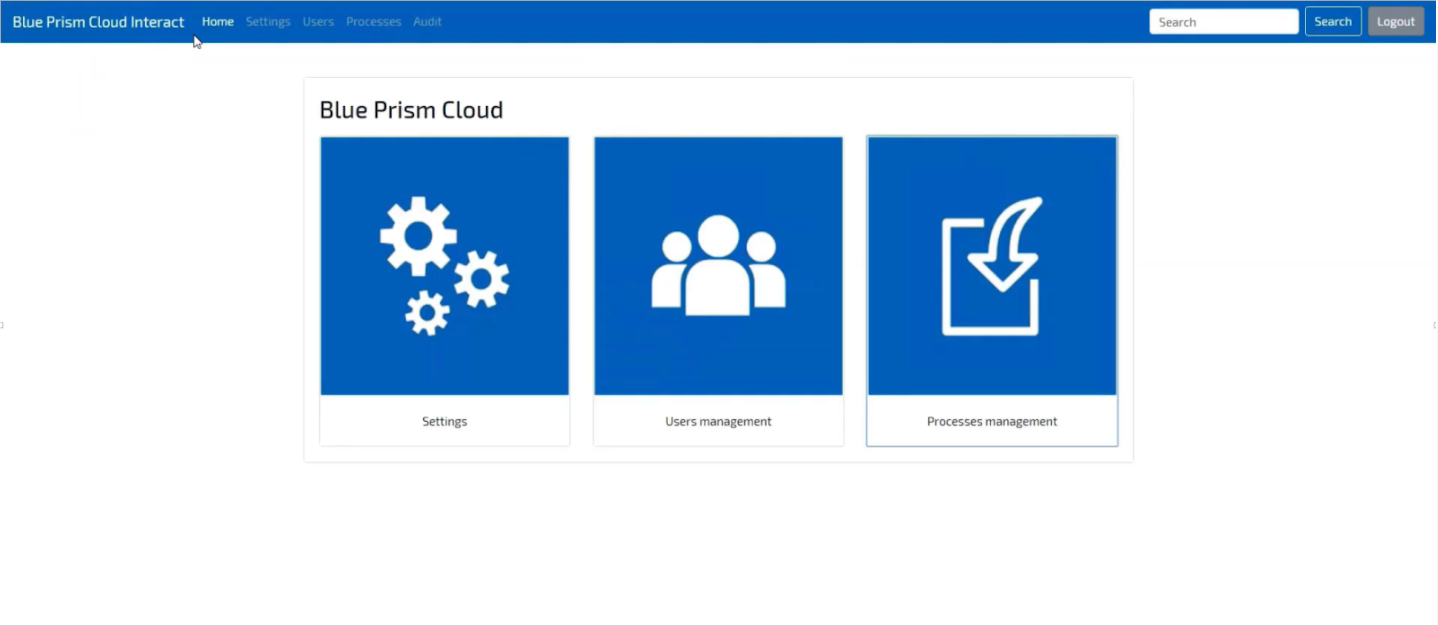 How does it work?
The Interact interface has a ready-to-use form builder to create and customize actions to be carried out by digital workers. The form builder is business-friendly, allowing non-technical users to easily create processes with drag and drop features and be prompted to ask the right questions to deliver the best outcomes.
Interact is also configurable to display different options to each user, and limit or upgrade access controls based on roles, increasing personalization and security. This helps businesses leverage the decision-making power of their subject matter experts (SMEs) efficiently and at the right times.
What are the benefits?
A barrier many face when exploring technology solutions to business challenges and needs is technical expertise or availability. Blue Prism was designed specifically with this in mind. Interact, along with its other features, were built for business users. Simple, web-based interfaces with drag and drop functionality allows business users to play a more hands-on role, without needing technical skill or ability.
By advocating for positive human and digital worker collaboration, businesses will upskill their existing employees and teams by enabling them to be more productive, efficient, and appropriately involved in automated processes.
As I mentioned above, our future reality is a human and digital workforce, so it's key to find a solution that fosters this collaboration to produce the best outcomes and ROI for your business.
Want more?
Check out the second webinar in this series, More than RPA: Blue Prism's Interact, where we dive deeper into how Interact can help you get the most out of your automation strategy. I'm joined by Ben Case, Director of Solutions with Blue Prism Cloud, who provides us with a helpful demo of the Interact interface and its capabilities.
If you missed part one in this series on Hub, the web-based interface, check it out here, and then the final part three on IADA, the Intelligent Automation Digital Assistant.
About the author

Albert is an Associate Director responsible for implementation delivery, professional and consulting services, and business development. He has expertise in corporate strategy, program and project management, risk and scope management, and contract negotiations. He's worked with clients in property management, financial services, legal, government, and other industries. Outside of work, he enjoys spending time with his family and cheering for his beloved (but cursed) Dallas sports teams. Read more from Albert.